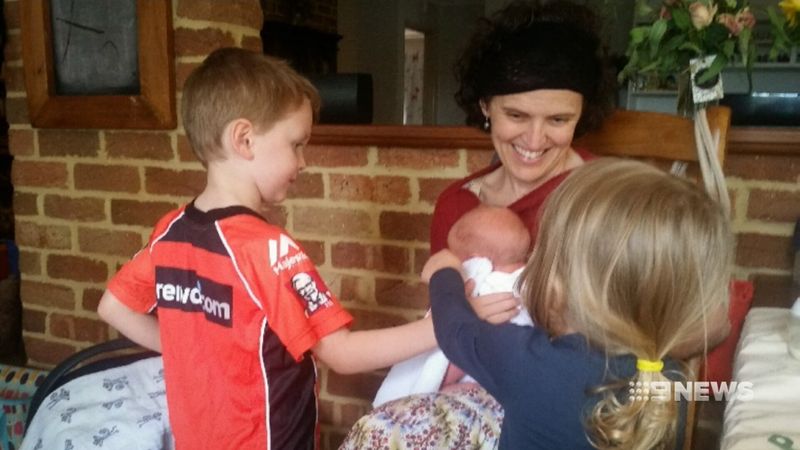 It's the ultimate gift - bringing a baby into the world through surrogacy. However, in Western Australia, only 10 babies have been born through a surrogate in the last decade because the state's laws are so tough. The process often takes up to a year and costs roughly $80,000. 
That makes Robina and her husband Ryan's one year old son, Raphael, a rare baby.  "You have to be really resilient to continue with the process and because no one is allowed to profit from it, no one can really help you," Robina told 9NEWS.  The couple started looking into surrogacy after Robina underwent chemotherapy for breast cancer. 
They connected with their surrogate, Hayley Christidis, through a Facebook page 'Families Through Surrogacy.' 
"We're not a family without Hayley... We couldn't be this family, so Hayley and her family are family for us too, now," Robina said. 
Read more: Surrogacy laws in Western Australia set to change.
Fertility issues affect up to 15% of couples.
Luckily, there are a few natural ways to increase your fertility and become pregnant faster.
In fact, diet and lifestyle changes can help boost fertility by up to 69%.
Here are 17 natural ways to boost fertility and get pregnant faster.
1. Eat Foods That Are Rich in Antioxidants
Antioxidants like folate and zinc may improve fertility for both men and women.
Antioxidants deactivate the free radicals in your body, which can damage both sperm and egg cells.
One study of young, adult men found that eating 75 grams of antioxidant-rich walnuts per day improved sperm quality.
Another study that followed 60 couples undergoing in-vitro fertilization found that taking an antioxidant supplement resulted in a 23% greater chance of conception.
Foods such as fruits, vegetables, nuts and grains are packed full of beneficial antioxidants like vitamins C and E, folate, beta-carotene and lutein.
A big breakfast in the morning improves pregnancy chances by helping women dealing with their reproductive health problems. Women struggling to conceive would be wise not to neglect eating their morning meal and have a big nutritional breakfast daily.
This is what a study suggests, as it appears that consuming more calories in the morning could assist women with fertility problems get pregnant. Previous studies have shown that our body weight is not affected only by the amount of calories consumed but by the timing as to when we consume as well. The latest research of Professor Oren Froy (Hebrew University of Jerusalem), Professor Daniela Jakubowicz and Dr Julio Wainstein (Wolfson Medical Center, Tel Aviv University) revealed that a big breakfast can enhance fertility in women with menstrual irregularities due to polycystic ovary syndrome (PCOS).
It now appears that women are not the only one who have to worry about their biological clock since male fertility declines with age as well, research reveals. Although, there are differences between male and female fertility, experts now advise male population wishing to have biological children, to avoid losing time. ''Men too cannot afford waiting forever'' says Dr. Paula Fettback of the Huntingdon Reproductive Medicine Centre in Brazil.
Dr. Fettback lead a study focused on the outcome of 570 IVF treatments carried out at her clinic. More specifically, fertility outcome was analyzed for 570 men under fertility treatment from March 2008 to April 2011. In order to eliminate female infertility factors, researchers only studied cases of IVF treatment where eggs from young and healthy women were used through egg donation.  They came to result that in couples who had difficulty in conceiving male age was greater than in couples who achieved pregnancy. Actually, for couples where the man was 41 years old chances of conception were about 60%.